Turkey Lettuce Cups with Peanut Sauce
Flavorful ground turkey in butter lettuce cups served alongside a peanut dipping sauce. All topped with crispy rice noodles and shredded purple cabbage. Great dinner for make-ahead prep, just make the ground turkey ahead of time and assemble the lettuce cups when ready to eat!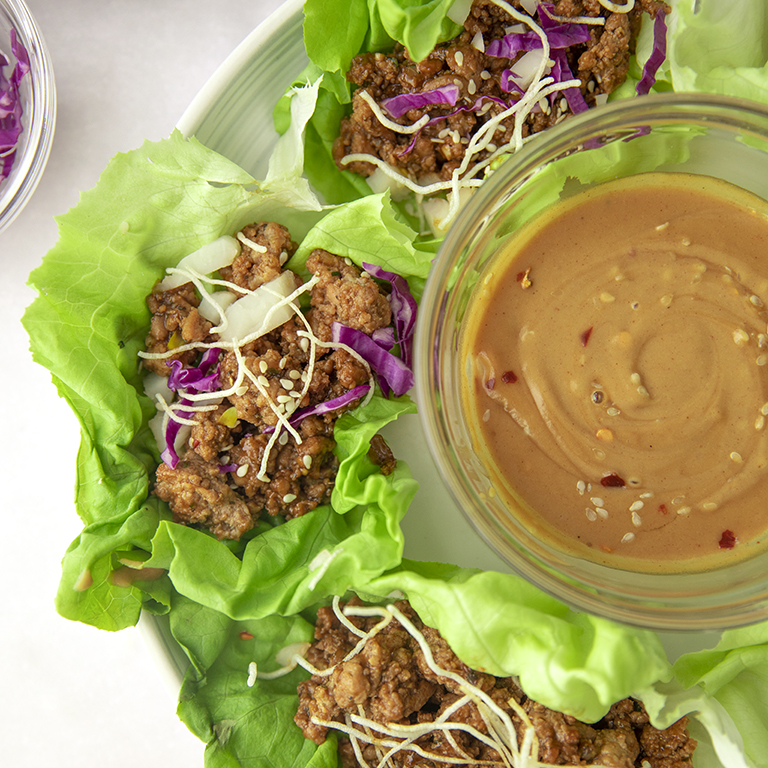 8

Servings

10 mins

Prep Time

25 mins

Total Time
Ingredients
1 tbsp. olive oil
1 grated onion
3 cloves minced garlic
3 tsp. salt
2 tsp. pepper
1 cup hoisin sauce
1/2 tbsp. ground ginger
1/4 cup soy sauce
1/4 cup rice vinegar
2 tbsp. sriracha
2 tbsp. honey
1/2 cup peanut butter
1/4 cup soy sauce
1 tbsp. sesame seeds
Juice of 1 lime
2 tbsp. honey
Pinch of red pepper flakes
Crispy rice noodles for topping
1 head of butter lettuce
1/2 cup shredded purple cabbage
1/4 cup water chestnuts
Serving Size
1 Lettuce Cup with Filling (150g) / Peanut Sauce 2 Tbsp (36g)
Amount Per Serving
Calories
210 / 120
Calories from Fat
% Daily Value*
Total Fat

8 / 9g

10 / 11%
Saturated Fat

1.5 / 1.5g

8 / 8%
Trans Fat

0 / 0g

Cholesterol

40 / 0mg

13 / 0%
Sodium

2130 / 520mg

93 / 22%
Total Carbohydrates

28 / 9 g

10 / 3%
Dietary Fiber

1 / 1g

4 / 4%
Sugars

17 / 5g

Protein

14 / 4g

Vitamin D (0.1mcg / 0mcg)

0 / 0 %

Calcium (40mg / 10mg)

4 / 2 %

Iron (1.9mg / 0.6mg)

10 / 4%

Potassium (310mg / 140mg)

6 / 4%

*Percent Daily Values are based on a 2,000 calorie diet. Your daily values may be higher or lower depending on your calorie needs. This is a representation of the nutrition label. The actual nutrition label on the product may vary slightly.
Step 1

In a large skillet over medium high heat, heat the olive oil.

Step 2

Brown the turkey until nearly cooked through. Stirring occasionally.

Step 3

Stir in the grated onion, garlic, salt, and pepper.

Step 4

While that continues to cook, in a small bowl whisk together the hoisin, soy sauce, vinegar, sriracha, and honey, and ginger until combined into a sauce.

Step 5

When the turkey is cooked fully, add the filling sauce and stir until warmed all the way through.

Step 6

Set aside the turkey mix.

Step 7

In a small bowl whisk all ingredients for the sauce. Top with sesame seeds.

Step 8

In the butter lettuce leaves add a small scoop (about 2 -3 tablespoons) of the turkey filling. Top with a sprinkle of cabbage, water chestnuts, and crispy rice noodles.

Step 9

Dip in the peanut sauce and enjoy!
Turkey Lettuce Cup FAQs
Several lettuce species are likely available at your local market. Each type contains loads of vitamins A and C, fiber, potassium, iron, calcium, and manganese. However, not every type of lettuce is suitable for making lettuce cups.
The best types of lettuce for lettuce cups have round and sturdy leaves that can fold and hold the filling without breaking. The ideal lettuce for lettuce cups should have a mild or neutral taste that will not compromise the taste of the lettuce cup's filling, which rules out most bitter lettuces, such as curly endives or frisée.
A choice lettuce for lettuce cups is butter lettuce, also called Boston or Bibb. Depending on the exact species you purchase, this loose-headed lettuce can be bright green, yellowish, or reddish.
Butter lettuce is a top choice for lettuce cups because it has broad and rounded leaves that hold lots of filling. The leaves are also strong yet flexible, meaning they won't break when folding them into cups. Even better, butter lettuce has a mild sweet taste that can complement the flavor of your lettuce cup filling.
Iceberg and baby gem lettuce are good alternatives if you're having trouble finding butter lettuce. Iceberg lettuce's high water content gives it a cool and neutral taste. Also, compared to butter lettuce, iceberg lettuce is crunchier, providing a satisfying texture when used for lettuce cups.
For bite-sized lettuce wraps, go for baby gem lettuce. This lettuce has small, tender and subtly sweet leaves that hold the filling without falling apart.
Since turkey lettuce cups are highly customizable, you can fill them with anything you want to achieve your desired flavor. However, ensure your filling contains minimal liquid when building your lettuce wraps because any amount of excess liquid can affect the lettuce structure. Also, avoid adding the filling when it's piping hot. If the filling is too hot, it will wilt the lettuce, causing it to fall apart.
The ideal turkey lettuce wrap is a low-calorie appetizer that delivers lots of flavors without getting you full quickly. Consider serving your turkey lettuce wraps alongside bread, fried rice, or a noodle dish if you want a filling meal. Alternatively, keep things light by having a soup-based dish for your second course.
Ground turkey is a highly versatile ingredient that can be used in several ways. Below are some of our favorite ground turkey appetizer recipes:
Creating flavor-packed Turkey Lettuce Cups is easy once you have the right ingredients. Get the most important ingredient by discovering where to buy ground turkey from Shady Brook Farms today.
Hungry for More?
Sign up to get exclusive offers, recipes, and seasonal inspiration straight to your inbox.
Join Now