McCormick® Grill Mates® Garlic & Herb Turkey Tenderloins Kabobs with Grilled Vegetable Kabob and Basil Pesto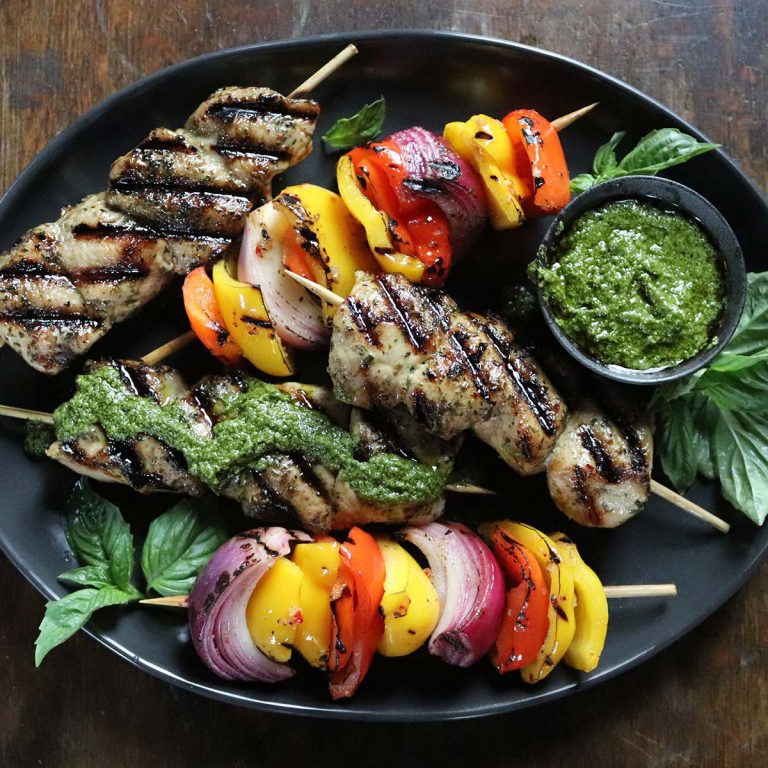 6

Servings

10 mins

Prep Time

40 mins

Total Time
Ingredients
1 red onion, cut into 2" cubes
1 red bell pepper, cut into 2" cubes
1 yellow bell pepper, cut into 2" cubes
¼ cup Italian dressing
2 cups fresh basil, leaves only
3 cloves of garlic
¼ cup of slivered almonds or toasted pine nuts
½ cup olive oil
¼ cup shredded Parmesan
Salt
Serving Size
1/6 of prepared meal
Amount Per Serving
Calories
405
Calories from Fat
% Daily Value*
Total Fat

29g

37%
Saturated Fat

4g

21%
Trans Fat

0g

Cholesterol

50mg

16%
Sodium

880mg

38%
Total Carbohydrates

10g

3%
Dietary Fiber

2g

6%
Sugars

4g

Protein

30g

*Percent Daily Values are based on a 2,000 calorie diet. Your daily values may be higher or lower depending on your calorie needs. This is a representation of the nutrition label. The actual nutrition label on the product may vary slightly.
Step 1

One day prior, or the morning of, cut vegetables into 2" cubes and place in a plastic resealable bag. Add Italian dressing and allow to marinate. Once marinated, alternate the various vegetables on a 6" skewer until the skewer is full. Repeat until all vegetables are used.

Step 2

Remove the tenderloins from the package and then cut into 2" cubes. Place 4 to 5 pieces on wooden or metal skewers. If using wooden skewers, soak in water for a minimum of 3 hours to prevent the skewers from burning while cooking.

Step 3

Preheat outdoor grill or charcoal grill to 350°F and lightly oil the grates.

Step 4

Place the turkey tenderloin skewers and vegetable skewers on the grill and cook 10 to 12 ½ minutes, then flip.

Step 5

Continue to cook until they reach a minimum internal temperature of 165°F (approximately 10 to 12 ½ additional minutes). Use a meat thermometer to confirm internal temperature.

Step 6

While turkey tenderloins and vegetable skewers are cooking, prepare the Basil Pesto (can be made a day prior).

Step 7

Using a food processor, blend together the basil, garlic and cheese until coarsely chopped. With the food processor running, slowly add the olive oil and blend until smooth. Salt to taste, then set aside until needed.

Step 8

Once the kabobs are cooked, place on a large platter then top the turkey kabobs with a small amount of basil pesto. Place the remaining pesto in a small bowl.

Step 9

Serve immediately.
Hungry for More?
Sign up to get exclusive coupons, recipes, and seasonal inspiration straight to your inbox.
Join Now